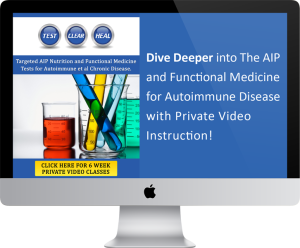 It's obvious that most practitioners trained in general medicine, health coaching, and even Functional Medicine, lack an in-depth understanding of AIP foods to include, the supplements that can cause reactions, and the most important tests to run. As a result they often end up over testing and suggesting detrimental foods and supplements that set their clients back rather than moving them forward.
If you're ready to put on your Functional Medicine detective cap, why not start training right now?  The training I am about to reveal is intended for patients and providers who would like to streamline their approach to autoimmune and chronic disease with the most important Functional Medicine tests, anti-inflammatory foods and safe supplements.
My online program called "Test-Clear-Heal" as a Targeted Autoimmune Protocol Nutrition and Functional Medicine training for patients, health coaches, acupuncturists, chiropractors, NTP's, MD's, ND's, RN's, NP's etc..
Test Clear Heal is a 7 week Private Video Training in Targeted AIP Nutrition and Functional Medicine Testing. You will have access to weekly classes and pdf's that will guide you in ordering and interpreting your own useful Functional Medicine Tests.
I recently offered this as a live online program which was incredibly well received. Everyone greatly appreciated being able to figure out which Functional Medicine tests they needed, how to order them and how to interpret the results. This unique program also includes training in the most nutrient dense AIP foods to include based on the recommendations in The Paleo Approach by Dr. Sarah Ballantyne. Once you sign up, as a private member. you will have access to all recommended labs, videos and pdfs.
This class is perfect for patients, practitioners and health enthusiasts who are motivated to take greater control over their health. Please apply here to get started. If you are not ready to go deeply into learning all of this valuable info just yet, I created a free video course called "How to Outsmart Your Autoimmune Disease" which will help you to transition first to the Paleo diet and then to the Paleo autoimmune protocol.
The post Test-Clear-Heal appeared first on Anne Angelone.
Read more here:: https://anneangelone.com/2016/07/13/test-clear-heal/